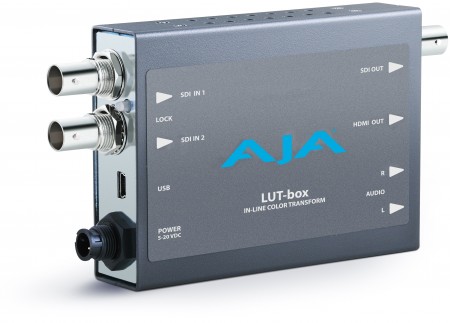 AJA LUT-box

Artikel-Nr.:

LUT-box

Das ist MCI Shop:

Bestpreisgarantie, fragen Sie nach einem Angebot!
Sichere Zahlung mit PayPal Plus.
Support per Telefon, Mail oder Chat.
LUT-box In-line Color Transform Load 3D LUTs into LUT-box to adjust the color space and...
mehr

LUT-box
In-line Color Transform

Load 3D LUTs into LUT-box to adjust the color space and look for any source signal with simultaneous outputs to HDMI and SDI monitors from a single LUT-box.

In-line Color Transform
Working with material outside the normal video color space can cause confusion both on set and in the edit suite with colors that are not properly represented for client review and approval. LUT-box ensures that every monitor is showing the correct color space and look for any source signal while still allowing the original footage to remain in an alternate color space to take advantage of additional dynamic range.

Pristine Image Quality
LUT-box supports 3D LUTs at 17x17x17 with 12-bit processing for accurate color representation.

Multiple LUT formats are supported including:
• .3dl
• .lut
• .txt
• .cube

Extensive Connectivity
LUT-box accepts 3G and Dual-Link input in a wide range of signal formats. Simultaneous SDI and HDMI outputs allow multiple monitors to view the corrected color signal.

Audio Integration
Up to 16-channels of embedded SDI audio are supported on input and can be passed to 8-channel of embedded HDMI audio on the output. Two channels of analog audio output allow direct external monitoring without the need to disembed the audio separately.

USB and MiniConfig Support
AJA's free MiniConfig software can be used with any USB-enabled AJA Mini-Converter and provides an easy-to-use graphical interface with detailed information about the current input and output formats. Control all the parameters of any supported AJA Mini-Converter as well as loading firmware updates from AJA that add new features and functionality.

Universal Power Supply
All AJA Mini-Converters ship with a Universal Power Supply that includes international plug connections for use around the world.

Compact and Portable
AJA Mini-Converters are small enough to fit behind a monitor, in the back of a rack or directly on a camera rig. A locking power connector can't accidentally pull loose and an optional P-TAP power cable allows for battery power in remote locations.

AJA Quality - Guaranteed
All AJA Mini-Converters are covered by a 5-year warranty and AJA's advanced replacement policy. If a replacement is necessary, AJA will ship a new unit immediately without the need to send the original unit back first, ensuring you are up and running again as quickly as possible.

AJA Mini-Matrix
Information on the complete line of AJA Mini-Converters is now available as a mobile app on iOS. The Mini-Converter product line is extensive and this app helps you find the right converter for any situation, wherever you are.

Individual products have links back to the main AJA website for more details and you can email product information directly from the app. The free AJA Mini Matrix app for iPad and iPhone is available now in the Apple iTunes Store.
Weiterführende Links zu "AJA LUT-box"